Welcome to the Broadway Hockey Club.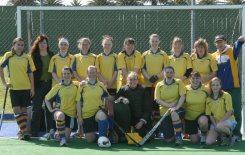 2009 : Broadway men 1st div squad picked - congratulations to those selected.
Senior Mens Div 1, Saturday 4th  2pm vs College
Senior Men Div 2, Saturday 4th 330pm vs Massey
Mens 3div, Friday 3rd,  Broardway C  630pm vs Caps           
Broadway Indians  8pm vs Boyshigh 2nds
Womens 3rd Div Sunday 5th 3pm vs Marist
Senior Mens Training , Wed 8th 630pm


2009 : Good numbers means 5 teams for Broadway in 2009 - looking forward to the season.
2008 : Well done the Broadway women who narrowly lost the 2008 final to Classics.
2008 : Special congratulations to Dennis Slade and Cam Percy who were selected in the New Zealand Masters teams and to the other age grade reprentatives.
Hail was the winner on the day. Nirwair Singh seen enjoying the Manawatu weather as High School sneak by with a lucky draw against our mens A team.
2008 : Broadway Hockey Club Day / Trials on the 8th March had a good turnout. Good start to the season. Congratulations to Cam Percy who has been selected for the NZ Masters.
2007 : Well done to Broadway Women who won their final against CAPs.